Jay-jay or Jonas Burgos, son of press freedom icon Joe Burgos, was reportedly abducted by the military last Saturday.

Para sa mga humahanga kay Ka Joe at sa kanyang mga aktibistang anak, ito ang profile/citation an binigay ng IPI kay Ka Joe na hinirang bilang isa sa 50 World Press Freddom Heroes.Siya ang tanging Pinoy na tumanggap ng nasabing pagkilala.
T
---
JOE BURGOS
http://www.freemedia.at/Heroes_IPIReport2.00/07Burgos.htm
José Burgos' newspapers survived Ferdinand Marcos' regime in the mid-1980s. He printed the truth about Marcos and his murder of Benigno Aquino, an opposition leader, and gave a voice for the People Power movement.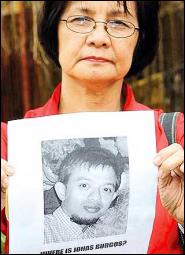 José G. Burgos Jr. was a key figure in the initially small, but ultimately powerful, group of independent media that exposed the crimes of President Ferdinand Marcos and toppled his regime. In September 1972 Marcos declared martial law, which swiftly dissolved the elected national Congress, suspended civil liberties and exerted his control over the media. Hitherto one of the freest and most vibrant in Asia, the Philippine press became a docile mouthpiece of the government as Marcos' cronies printed a steady stream of positive news about the president and more-independent papers were coerced into selling their publications to parties linked to the regime.
Born on Jan. 4, 1941, Burgos started his journalism career as a police reporter with the Manila Times. He launched the English-language weekly We Forum and the vernacular Malaya (Free) and Masa (Masses) from a small office in suburban Manila in May 1977, during the height of martial law. For many years We Forum remained the lone effective opposition paper, although newspaper sellers never publicly displayed it. "When people started buying We Forum, they had to whisper its name, like buying pornography," Burgos recalled. "The vendor would reach under the counter and fold it so small you could put it in your pocket."
Soldiers raided the newspaper's offices on Dec. 7, 1982, arrested Burgos and nine of his staff and sealed off the entire operation, including the printing presses. "I was accused of being a subversive," Burgos said. "I was a super-subversive because the military accused me of having been an officer of all the illegal organizations in the Philippines and even the U.S."
Burgos was soon released after an international outcry, but the trial against him dragged on for almost two years. It had the desired effect of silencing We Forum. With that publication temporarily out of action, Burgos began to publish an English edition of what had been until then his vernacular weekly, Malaya. The new paper soon attracted even more readers than its predecessor, and Burgos quickly turned it into a daily.
Malaya was the only paper to publish the full story of opposition leader Benigno 'Ninoy' Aquino's murder in August 1983. Aquino was at Manila International Airport returning from three years of exile in the United States. "The crony papers didn't say anything about it," Burgos said. "Malaya was the only one. When Ninoy was laid to rest, there were millions of people at his funeral. There was no coverage, yet it was the biggest news of the year."
Malaya and the increasing number of small but independent papers were constantly harassed and threatened. "I am the best-dressed man in the Philippines because I have so many suits," Burgos said, commenting on the many libel suits filed against him. Malaya's telephones were tapped, and its distributors were asked not to sell the paper. Even the newsboys, who plied their trade weaving in and out of Manila's heavy traffic, were threatened. Many journalists who dared to speak out during this period paid the ultimate price as victims of brutal murders known locally as "salvagings."
Aquino's assassination, however, proved to be the turning point. Toward the end of 1985, as the February presidential election approached, the People Power opposition movement of Aquino's widow, Corazon, was gaining momentum. Other independent media outlets, including Mr. & Ms., the Daily Inquirer, the Manila Times and the Catholic radio station Radio Veritas, joined Malaya in rallying the previously disorganized opposition and generating an authentic people's revolution.
Despite strong evidence of massive electoral fraud, Marcos claimed victory in the presidential election. But after his own defense minister, Juan Enrile, and the acting chief of staff of the armed forces, Fidel Ramos, rallied round Corazon, he fled to the United States. She then was sworn in as president.
Burgos now publishes and edits We Forum as a weekly magazine. He won the 1986 International Journalism Award of the Inter Press Service for his contribution to the defense of press freedom during the blackest years of the Marcos regime. In his acceptance speech, he said: "If I had my way, I would rather that this award should go to each and every one of the Filipino media men who were killed or who vanished during those years of unspeakable oppression. They were — and are — real heroes to the cause of press freedom in my country."
---
30 April 2007
Reference: Mary Ghay Portajada, Desaparecidos Spokesperson
Telefax 4342837
Surface Jay-jay Burgos and Melisa Reyes!
The Families of Desaparecidos for Justice (DESAPARECIDOS) condemned the disappearance of Jonas Joseph Burgos and Melisa Reyes, on April 28, in Quezon City.
Burgos, or Jay-Jay, 38, son of press freedom icon Jose "Joe" Burgos Jr., failed to come home to his family in Tandang Sora, Quezon City on April 28. His anxious family tried to contact him through his cellphone the whole night, but it was only at 10:46 AM the next day that they received messages from him which did not make any sense. His family was still able to talk to him on the phone but his voice sounded drowsy and his words did not make sense as if he were drugged.
Burgos had been giving agri technology trainings to members of the Alyansa ng Magbubukid sa Bulacan (AMB), a provincial chapter of the Kilusang Magbubukid ng Pilipinas.
"This is a brazen act which only state security forces will have the motive and gall to carry out. It's ironic that it happened to a member of the Burgos family that had opposed and survived Martial Law and still continues to defend civil rights and press freedom," said Ghay Portajada, spokesperson of Desaparecidos.
Portajada also noted that Jay-jay's disappearance happened, not in a remote village in the countrysides, but here in Quezon City where there is much presence of both police and military elements.
"We call on the responsible elements of the Armed Forces of the Philippines to surface Jay-jay and Melisa. We dare the Arroyo administration to solve this disappearance, and use all possible resources and technologies to locate Jay-jay, whose phone is still active and could actually be tracked," said Portajada. "We pray that Jay-jay and Melisa will be surfaced alive, just like urban poor leader Lourdes "Nay Ude" Rubrico, who was abducted and detained by intelligence agents for one week at the Fernando Basa Air Base in Lipa City, Batangas.
There are now a total of 198 victims of enforced disappearances during the six years under Gloria Macapagal-Arroyo. ##